Next stop: #truStockholm: Track leader list 9'th – 10'th March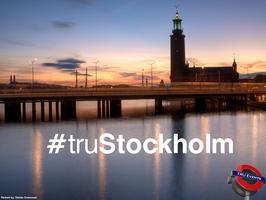 The #tru carnival moves on next week from #trulondon to #truStockholm. There's something special about the first #tru event in a new city and a new country. Those that attended the first #trulondon, #truAmsterdam or #trumanchester will know exactly what I'm talking about. As the communities have developed, it's great to have shaped it through the first event.
Thanks to Monster.Se for making this possible! 
I can now announce the line-up of track-leaders so far. Expect more confirmations over the coming week:
Andy Headworth – Founder – Sirona Consulting
Michelle Rea – CEO – SocialHonesty
Oscar Mager – CEO – Recruiting Essentials
Stefan Ritzvi – Marketing Director – Nordics – Monster
Bill Boorman – @BillBoorman and #truevents
Karin Isberg – Employment Branding Specialist – The Tomorow Story
Rob VanElburg -COO – Rave Recruitment and #RIDE
Keith Robinson – Founder – The Buzz/Jobsite Advisorand E-Comm Digital
Torgil Lenning – CEO Potential Park
Anna Malmstrom – CEO – Propell
Jorgen Sundberg – Founder – LinkHumans and Social-Media london
Fredrik Johnsson – Founder – HRSvreige
Sara Headworth – Sirona Consulting
Johannes Sundlo – HRSvernge
Stefan Liden – CEO – iNeed
Thats a fantastic line up from 3 countries, all looking to share their knowledge and provoke conversation.
We've also added some new tracks due to demand:
#truGrads – The real graduate recruitment process and what they need from employers.
Culture Match – How to best understand culture, interview and select for fit.
Augmented reality check – the potential for recruiters in utilising augmented reality, data-mapping and location-based recruiting techniques.
Case studies – a selection of case studys covering what people really did to recruit, successes and failures.
Every picture sells a story – using photos and images to reinforce employer brand.
Blogging for branding – how employees are encouraged to spread the employer brand through blogging, selling the message person to person.
Changing face of learning – The impact of social-learning, from on-boarding through to continuous professional development.
We will of course be adding tracks right up to the day according to the attendees needs. Let us know what you want to hear.
Theres 30 tickets left. it would be a shame to miss out,
Book HERE
Bill
PS: One day tickets now available.