TRU Tel Aviv
July 4, 2017 @ 3:00 pm

-

8:00 pm
Event Navigation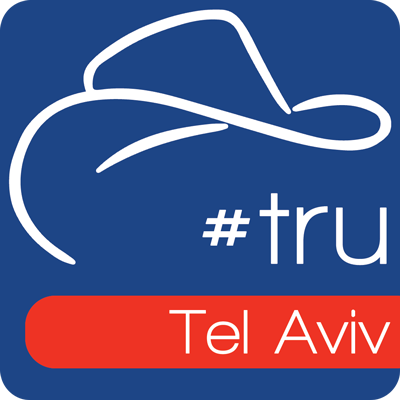 ברוכים הבאים לאירוע TRU Tel Aviv!
אני שמחה להשיק בארץ את אירועי הגיוס, הסורסינג וטכנולוגיות בשירות משאבי אנוש והגיוס בשם המותג TRU המתקיימים ברחבי העולם.
ביל בורמן הינו היוזם של מותג האירועים TRU וקרן אזולאי היא הנציגה והמארגנת בארץ.
שלא כמו בכנסים קונבנציונלים, הדגש כאן הוא על **השיחה וחילופי דעות חופשיים**. כולם יכולים להשתתף וגם להוביל מפגשים.
מפגשי TRU ברחבי העולם הוכיחו שזוהי הדרך הקצרה ביותר ללמוד הרבה, בזמן קצר וגם לפגוש אנשים חדשים ולעשות נטוורקינג.
מפגשי TRU הינם בחינם על מנת שהתשלום לא יהווה מכשול להשתתפות. כל תרומה תתקבל בברכה.
רוב המפגשים יתקיימו בעברית וכמה באנגלית.
במפגש יהיו 4 מסלולים – סורסינג, סורסינג גיוס גלובלי, טכנולוגיות בשירות הגיוס ומשאבי אנוש HRtech ו- show &tell של כלים.
פירuט גדול יותר של הנושאים יועלה בקרוב.
שאלות ותשובות – תתווספנה בקרוב.
Welcome to another TRU un-conference event, this time in TEL AVIV!
Unlike other recruiting and sourcing conventional events, the emphasis in TRU events is about the personal discussions and the free exchange of ideas within a group setting.
.The many TRU events have proven to be the quickest way to learn, share your ideas and network
The event will be donation based.
There will be 4 tracks – Sourcing, global sourcing, HRetch and Show and tell HR & Recruiting technology
Full agenda will be posted soon!
Q&A will posted soon.